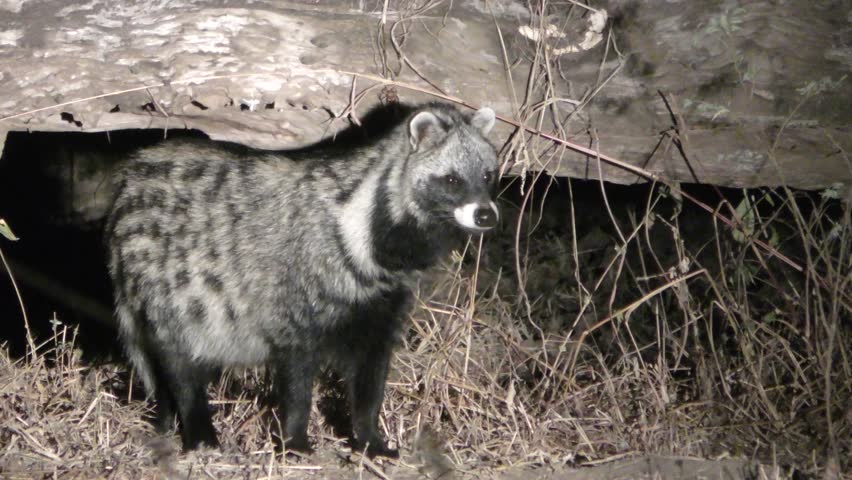 African Civet
Definition of the noun
African Civet
What does African Civet mean as a name of something?
African Civet is the vernacular name of the Civettictis civetta, a species of Civettictis.
Printed dictionaries and other books with definitions for
African Civet
Click on a title to look inside that book (if available):
by Maurice Burton, Robert Burton
The African civet is both common and widespread, but its acute senses and solitary, nocturnal habits help it avoid contact with humans. Most clams have hinged shells that protect the soft parts. There are 17 species of civets, although " civet" is ...
by George A. Burdock
African civet contains approximately 1.0% skatole.
by Burkhard Fugmann, Susanne Lang-Fugmann, Wolfgang Steglich
the anal sac of the animal; the following species of civet cat are known: Civet-tictis civetta ( African civet cat), Viverra zibetha (Asian civet cat), and Viverricula indica ( Chinese ...
by Robert A. Lewis
Derivation: Feces; African civet cat; ...
by Frank Moore Colby, Talcott Williams
There are several species of civet, of which the best known is the common or African civet (Viverra civetta) of northern Africa, from 2 to 3 feet long, brownish gray, with numerous black bands and spots. The civet preys on birds, small ...
Maninka, Bamana Vol. 1. by Vydrine, Valentin
= n Viverra civetta, Civettictis civetta civet cat , African civet /carnivore nocturnal animal, size of a medium-sized dog, dark-grey and blackish- brown to black, lives solitarily, sometimes catches domestic poultry and cats, ...
civet la, the African Civet, or " Civet Cat '* as it is commonly called, an animal rather larger than a common Fox, and an inhabitant of intratropical Africa. V. zibetta, the Indian Civet, of about equal size, ...
A Dictionary of Arts, Sciences and General Literature ... in Thirty Volumes with New American Supplement
civetta, the African Civet, or "Civet Cat" as it is commonly called, an animal rather larger than a common Fox, and an inhabitant of intratropical Africa. V. zibetta, the Indian Civet, of about equal size, ...
Common Names, Scientific Names, Eponyms, Synonyms, and Etymology (2 Volume Set) by Umberto Quattrocchi
the African civet Civettictis civetta (Carnivora, Viverridae, ...
Online dictionaries and encyclopedias with entries for
African Civet
Click on a label to prioritize search results according to that topic:
Photos about
African Civet
Click on an item to view that photo:
African Civet (Civettictis civetta)
The African civet, native to the savannas and forests of central and southern Africa, has short, dense fur that is a grayish color, with black spots arranged in rows along their bodies. Their legs and about 2/3 of their tail is black, with about a third of the base of their tail having striped markings. Their face is solid grey except for a white muzzle and black markings around the eyes that lead down the face. Their long necks have bars of white and black running down the sides, usually one white bar enclosed by two black bars, one above and one below. They have a short mane of about 1-4 inches (3-10 cm) in length that runs along their back. This mane becomes erect when the animal is frightened. They have 40 teeth. They have five digits on each paw with non-retractable claws. They have six mammae.
The African civet is omnivorous. It will eat a variety of fruits, carrion, insects, rodents, eggs, reptiles, and birds. They are able to consume animals and plants that are poisonous to most other animals, such as the Stychnos fruit, certain species of millipedes, and carrion that is decayed and pungent. The African civet does not use its paws to catch food; instead it picks it up with its teeth. Small mammals are usually killed by shaking them violently until their neck snaps.
African civets are primarily nocturnal, but can be seen during the day in cloudy weather and in the early mornings. The peak hours of their activity is from a couple hours before sunset until about midnight. They sleep in dense grass during the day. This civet, like most others, is solitary except during the mating season. They mark territories by pressing the glands located on their lower abdomen against a raised object. These civets also have special dung piles, or civetries, located near the edges of their territories. They make four distinct sounds: growls, coughing-spit, scream, and a "ha-ha-ha" sound used to locate other civets.
Photo credit: cliff1066™
If you need related images for an article or a report, you can download stock photos:
More...
Video language resources about
African Civet
Click on an item to play that video:
Share this page
Next...
Go to the wordplay of African Civet for some fun with words!