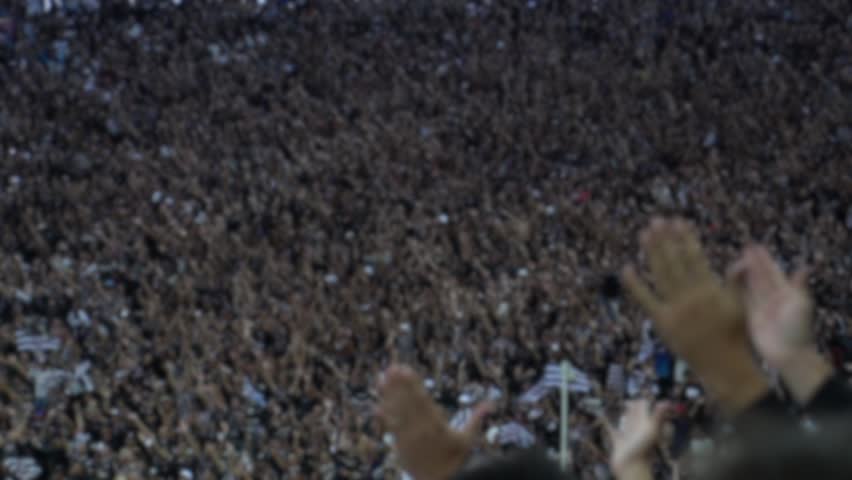 Blur
Definition of the noun
blur
What does blur mean as a name of something?
noun - plural: blurs
a hazy or indistinct representation
Alternative definition of the noun
blur
noun
A smear, smudge or blot
Something that appears hazy or indistinct
Definition of the verb
blur
What does blur mean as a doing word?
verb - inflections: blurred, blurring
become glassy; lose clear vision

syntax

:

Syntactic formula
Example for the syntactic formula
[

Agent

- intentional control] [Verb] [

Patient

]
Bill dried the clothes
[

Agent

- intentional control] [Verb] [

Patient

] [Adjective]
The clothes dried wrinkled
[

Agent

- intentional control] [Verb] [

Patient

] [Adjective] with [

Instrument

]
Tony broke the piggy bank open with a hammer
[

Agent

- intentional control] [Verb] [

Patient

] to / into [Oblique, state]
Tony broke the glass to pieces
[

Agent

- intentional control] [Verb] [

Patient

] to / into [Oblique, state] with [

Instrument

]
Tony broke the glass to pieces with a hammer
[

Agent

- intentional control] [Verb] [

Patient

] with [

Instrument

]
Bill dried the clothes with a hairdryer
[

Instrument

] [Verb] [

Patient

]
The hairdryer dried the clothes
[

Patient

] [Verb]
The clothes dried | The roses bloomed
[

Patient

] [Verb] [Adjective]
Piggy banks break open
[

Patient

] [Verb] [Adjective] with [

Instrument

]
Piggy banks break open with a hammer
[

Patient

] [Verb] [Adverb]
Copper rods bend easily | Cotton clothes dry easily | Crystal vases break easily | Idaho potatoes bake beautifully
[

Patient

] [Verb] to / into [Oblique, state]
Glasses break to pieces
[

Patient

] [Verb] to / into [Oblique, state] with [

Instrument

]
Glasses break to pieces with a rock

Verbs of Change of State (with the same syntax): abase, abate, abbreviate, abrade, abridge, accelerate, acetify, acidify, activate, advance, age, agglomerate, air, alkalify, alter, ameliorate, americanize, amplify, anesthetize, anglicize, animate, apostatize, atomize, attenuate, augment, awake, awaken, balance, beautify, bedew, bifurcate, bisect, blacken, blast, bleach, bloody, blunt, bolshevize, botch, brighten, broaden, burn, burst, calcify, capacitate, capsize, caramelize, carbonize, castrate, categorize, catholicize, cauterize, change, char, cheapen, chill, chlorinate, christianize, circumcise, civilize, clean, clear, clog, close, clouded, coagulate, coarsen, collapse, collect, commercialize, compress, condense, constrict, constringe, construct, contract, cool, correct, corrode, corrugate, corrupt, cremate, crimson, crisp, crumble, crystallize, curdle, dampen, darken, de-escalate, deafen, decelerate, decentralize, decrease, deepen, deflate, defrost, degenerate, degrade, dehumidify, dehydrate, demagnetize, demobilize, democratize, depressurize, desalinate, desiccate, destabilize, deteriorate, detonate, devalue, diffract, diffuse, dilate, dilute, dim, diminish, dirty, disintegrate, dislocate, disorganize, disperse, dissipate, dissolve, diversify, divide, domesticate, double, drain, dry, dull, ease, effeminate, emaciate, emasculate, embitter, embrocate, empty, emulsify, energize, enhance, enlarge, equalize, equilibrate, eternalize, europeanize, evaporate, even, expand, explode, fade, famish, fatten, federate, feminize, fertilize, fill, firm, flatten, flood, fossilize, fray, freeze, freshen, frost, fructify, fuse, gasify, gelatinize, gladden, granulate, gray, grow, halt, harden, harmonize, hasten, heal, heat, heighten, humidify, hush, hybridize, hydrogenate, ignite, improve, incinerate, increase, incubate, inflate, intensify, invert, iodize, ionize, kindle, laminate, lengthen, lessen, level, levitate, light, lighten, lignify, liquefy, loop, loose, loosen, macerate, magnetize, magnify, mature, mechanize, mellow, melt, mineralize, mobilize, moderate, modernize, modulate, moisten, motorize, muddy, multiply, mute, narrow, nasalize, nationalize, naturalize, neutralize, nitrify, normalize, objectify, obscure, open, operate, ossify, overturn, oxidize, pale, paralyze, pasteurize, perfect, petrify, polarize, polymerize, pop, popularize, proliferate, propagate, publicize, pulverize, purify, purple, putrefy, quadruple, quicken, quiet, quieten, rarefy, reanimate, redden, regularize, rekindle, reopen, reproduce, resuscitate, reverse, revive, ripen, roughen, rupture, saponify, scorch, sear, secularize, sharpen, short, short-circuit, shorten, shrink, shrivel, shush, shut, sicken, silence, silver, singe, sink, slack, slacken, slim, slow, smooth, soak, sober, soften, solidify, sour, sovietize, sprout, stabilize, standardize, steady, steep, steepen, sterilize, stiffen, stratify, strengthen, submerge, subside, sunburn, sweeten, tame, tan, taper, tauten, tense, thaw, thicken, thin, tighten, tilt, tire, topple, toughen, tousle, tranquilize, treble, triple, ulcerate, unionize, urbanize, vaporize, vary, ventilate, vibrate, vitrify, volatilize, vulcanize, wake, waken, warm, weaken, westernize, wet, whiten, widen, worsen, yellow.

lexical domain

: Perceptions - verbs of seeing, hearing, feeling

synonyms of blur

: film over / glaze over

to make less distinct or clear
make unclear, indistinct, or blurred
make a smudge on; soil by smudging
make dim or indistinct
become vague or indistinct
Alternative definition of the verb
blur
verb
To make indistinct or hazy, to obscure or dim.
To smear, stain or smudge.
[intransitive] To become indistinct.
People
Business
BLUR is a record label.
Characters
The Blur is a fictional character and a superhero from an alternate Marvel Comics universe. The Blur first appeared in Supreme Power #1 and was created by J. Michael Straczynski. The character is also a member of the team Squadron Supreme.
Blur is a fictional paranormal in the Marvel Comics imprint New Universe. He first appears in D.P.7 #1.
Writings
"Blur" is a book by Christopher Meyer & Stanley M. Davis.
Films
"Blur" is a 2013 Short / Drama / Family / Romance film written by Lenna Karacostas, Lindsey Naves and directed by Lenna Karacostas.
"Blur" is a film, directed by Chi Chi LaRue.
"Blur" is a film, directed by Nick Briscoe.

country: United States of America
language: English Language
starring:
genres: Indie film, Thriller, Psychological thriller, Crime Thriller
released in (9 years ago)
Game
"Blur" is an arcade racing video game for Microsoft Windows, PlayStation 3 and Xbox 360 developed by Bizarre Creations and published by Activision in North America and Europe. It features a racing style that incorporates real world cars and locales with arcade style handling and vehicular combat.
also known as Blur Racerz, ブラーレーサーズ
mode: Single-player video game, Multiplayer video game
developer: Bizarre Creations
genres: Racing video game, Vehicular combat game, Sports game
publisher: Activision Blizzard
released on (4 years ago)
award:

VGX Award for Best Driving Game
VGX Award for Best Performance by a Human Female (as Herself) nomination for Danica Patrick
Music
Miscellanea
Blur: A dim, vague appearance.
Printed dictionaries and other books with definitions for
Blur
Click on a title to look inside that book (if available):
Populism in Architecture And Design by Michael Shamiyeh
Blur is an architecture of atmosphere. Its lightweight...
The essential guide to getting perfect images in challenging light by Michael Freeman
Optical blur is the convolution of the sharp image with the shape of the aperture diaphragm in the lens. In other words, apply the aperture shape at a particular ƒ- stop in a certain way to a point in the image, and the result will be a specific shape ...
The Real World Guide to Set Up and Workflow by Charles Roberts
Motion blur is a phenomenon that occurs when an object moves faster than the perceptual frame rate of the viewing camera or eye can gather still images. Video and film are simply a series of still images that update so rapidly that the viewer ...
Modeling and Performance Prediction by Jon C. Leachtenauer, Ronald G. Driggers
The blur attributed to a component may be the result of a few different physical effects. For example, the optical blur is a combination of the ...
by Ronald S. Valle, Rolf von Eckartsberg
However, the blur is an orderly one, and the set of mathematical expressions that define the blur (such as the Fourier transform) are often called spread functions.
by Jan Kabili
Tilt-shift blur is a fun effect that can make large objects in a scene look like miniatures. 1 In Lightroom's Library module, with the Lesson 7 folder selected in the Folders panel, select nyc.psd. 2 Press Ctrl-E/Command-E and choose Edit a Copy ...
by Chad Perkins
Motion blur is an important part of the visual experience of watching movies. This started a while back with film cameras. Due to the shutter of the camera, when subjects (or the camera) moved quickly, the shutter wasn't open long enough to ...
An All-in-One Guide to Implementing Game Mechanics, Art, Design and Programming by Penny de Byl
Motion blur is an effect used to make something look like it is moving rapidly or to give the player a dreamy view ofthe environment. The pixels appear to streak across the page in the direction ofthe motion. In addition, objects can have ...
by Alexander J. Vincent
blur() JavaScript 1.0+, JScript 3.0+ Nav2+, IE4+ Syntax self .blur() The blur( ) method of window objects forces the browser window to lose focus.
by Ronald G. Driggers
where g is the acquired image, h is a spatially varying blur operator, / is the original image and n is a noise process. Common degradations include aberrations from ...
Volume One by Larry R. Squire
Blur visual feedback Tonic accommodation Blur/accommodation controller Blur − Local feedback BA − + + + Pinhole + + Local feedback + Accommodation Retina + response (AR) Looming (visual) CA + Pupillary response Head movements ...
by Thomas Curtis (of Grove house sch, Islington)
BLUR', v. & n. Probably from the Dutch, blare, a pustule ; or blain, or spot: to blur is to blot ; partially to deface ; to sully ; to stain ; to smear ; to disfigure. Such an act , That blurs the grace and blush of modesty, Calls virtue hypocrite. Shakspeare.
by Joseph Besharse, Reza Dana
Unless the CLC is coincident with the retina, as is only possible in mixed astigmatism or hypermetropic astigmatism when accommodation is used, the retinal blur patches in an uncorrected astigmat will be oriented. In myopic astigmatism the ...
The Most Up-To-Date and Accessible Guide to Business Ever by Capstone
Stan Davis and Christopher Meyer's Blur is a new breed in business books. Nowhere is this more evident than in the book's title. Blurwould not even have been considered as a possible title just a few years ago, when blind faith and certainty ...
by Fred McDonald
blur noun blurs A blur is something that is not clear, because you cannot see it clearly or you cannot remember it clearly:...
Comprising a Popular View of the Present State of Knowledge
BLUR', v. & n. Probably from the Dutch, blare, a pustule; or blain, or spot: to blur is to blot; partially to deface; to sully; to stain; to smear; to disfigure. Such an act, That blurs the grace and blush of modesty, Calls virtue hypocrite. Shakspeare.
Online dictionaries and encyclopedias with entries for
Blur
Click on a label to prioritize search results according to that topic:
Usage statistics about
blur
The following statistics are based on the British National Corpus, so they are representative for the British English from the later part of the 20th century, both spoken and written.
Distribution of usage frequency for the most common synonyms of the verb blur:
Comparison of usage frequency between the verb blur and its most common antonym:
Photos about
Blur
Click on an item to view that photo:
If you need related images for an article or a report, you can download stock photos:
More...
Video language resources about
Blur
Click on an item to play that video:
See also the pronunciation examples of Blur!
Quotes about
Blur
My teen years were a blur. I was following my dreams, and falling into unbelievable roles. I forgot for a minute that it was a gift, not a right, and had to take some time to re-humble myself. (Ralph Macchio)
more quotes about blur...
Scrabble value of B3L1U1R1
The value of this 4-letter word is 6 points. It is included in the first and second editions of the Official Scrabble Players Dictionary.
Anagrams of
B
L
U
R
What do you get if you rearrange the letters?
See also the blanagrams of Blur!
Share this page
Next...
Go to the usage examples of Blur to see it in context!