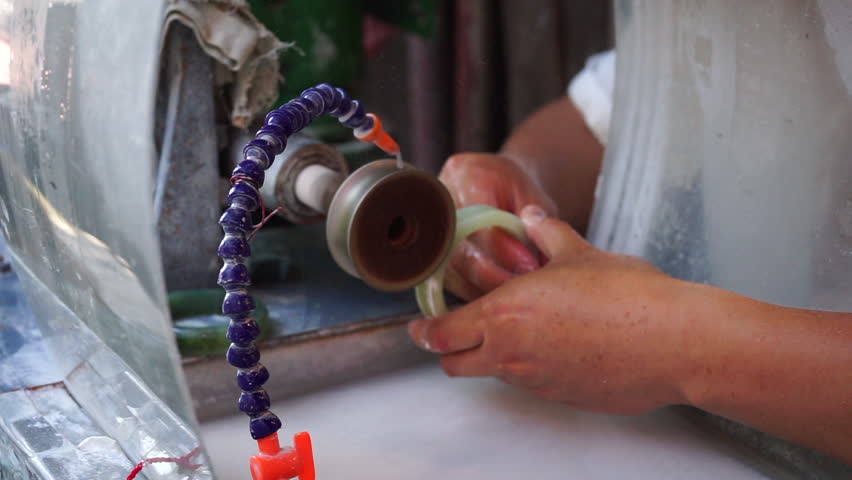 Jade
Jade appears in the following pangram (a sentence using every letter of the alphabet at least once):
Would you please examine both sizes of jade figures very quickly? (54 letters)
View more pangrams!
Jade appears in many palindromes (phrases that read the same backward as forward):
No devil idolised a jade silo Di lived on.
Ah, Tabatha… I raped a jade pariah, Tabatha.
No IT acolyte fastened a jade net safety location.
View more palindromes!
The following statistics are based on the British National Corpus, so they are representative for the British English.
Distribution of usage frequency for the most common synonyms of the noun jade:
Distribution of usage frequency for the most common synonyms of the verb jade:
Definition of the noun
jade
What does jade mean as a name of something?
noun - plural: jades
a semiprecious gemstone that takes a high polish; is usually green but sometimes whitish; consists of jadeite or nephrite
a woman adulterer
a light green color varying from bluish green to yellowish green

lexical domain

: Attributes - nouns denoting attributes of people and objects

synonym of jade

: jade green

an old or over-worked horse
Alternative definition of the noun
jade
noun
[uncountable] A semiprecious stone either nephrite or jadeite, generally green or white in color, often used for carving figurines.
A grayish shade of green, typical of jade stones.
A horse too old to be put to work.
A woman, especially in contempt.
Definition of the adjective
jade
What does jade mean as an attribute of a noun?
adjective - degrees: -
of something having the color of jade; especially varying from bluish green to yellowish green
Alternative definition of the adjective
jade
adjective
Of a grayish shade of green, typical of jade stones.
Definition of the verb
jade
What does jade mean as a doing word?
verb - inflections: jaded | jading | jades
lose interest or become bored with something or somebody
exhaust or get tired through overuse or great strain or stress
Alternative definition of the verb
jade
verb
To tire, weary or fatigue
Films
"Jade" is a 1995 American erotic thriller film written by Joe Eszterhas, produced by Robert Evans, directed by William Friedkin and starring David Caruso, Linda Fiorentino, Chazz Palminteri, Richard Crenna and Michael Biehn. The original music score was composed by James Horner based on a song composed by Loreena McKennitt. The film was marketed with the tagline "Some fantasies go too far.

also known as Jocuri periculoase
country: United States of America
language: English Language
producers: Craig Baumgarten, Gary Adelson, Robert Evans
written by Joe Eszterhas
starring:
cinematography by Andrzej Bartkowiak
edited by Angie Hess
music by James Horner, Loreena McKennitt
costume design by Marilyn Vance
genres: Thriller, Action Film, Mystery, Crime Thriller, Suspense, Erotic thriller, Psychological thriller, Drama
tagline: Some fantasies go too far.
rating: R (USA)
released on (20 years ago)
award:

Razzie Award for Worst New Star nomination for David Caruso
Golden Raspberry Award for Worst Screenplay nomination for Joe Eszterhas

"Jade" is a 2009 drama short film written and directed by Daniel Elliott.
Writings
"Jade" is a book published in 1999 that was written by V. C. Andrews.
language: English Language
released on (16 years ago)
Characters
Jade is a fictional character from the Mortal Kombat video game series. Debuting in 1993's Mortal Kombat II as an unplayable secret character that was a green palette swap of Kitana, Jade made her first playable appearance in Ultimate Mortal Kombat 3 in 1995. Since then, Jade has become a stalwart supporting character in the series, also appearing in some other media and merchandise in the extended Mortal Kombat franchise.
Jade is a fictional character, a superheroine in the DC Comics Universe who first appeared in All-Star Squadron #25. Known affectionately as "Jennie" or "Jen", she is the daughter of Alan Scott, the Golden Age Green Lantern. Her mother is Rose Canton, the Golden Age villain known as Thorn. Jennie-Lynn has a twin brother, Todd James Rice, who is the superhero Obsidian.
Jade a.k.a. Jade Mebarak is a fictional Arab woman and the series protagonist on the Telemundo television series El Clon. The character is portrayed by actress Sandra Echeverria, and was created by Glória Perez.
Jade is fictional comic book character published by Chaos! Comics.
Jade is a fictional character from the 1985 anime TV series Ninja Senshi Tobikage.

also known as Shafu, Schaffe, Shaf

Jade is a fictional character from 2009 film The Hangover and from the 2013 film The Hangover Part III.
Jade is a fictional film character.
Jade is a fictional character from the 1998 film Bride of Chucky.
Jade, Jeager in the English dub, is a fictional character from Yudetamago's manga and anime series Kinnikuman: Nisei.
Jade is one of the main characters in the famous doll line, Bratz. She is the fashionista in the group. She is Japanese. She loves all the cutting trends, taking chances with fashion, and expressing herself with fashion.
Jade is a fictional character from the 2014 film The Equalizer.
There are other characters with in their name, like Jade Fox, Jade Nova, Mara Jade, Jade Dragon, Jade Taylor, Charlie Jade, Jade Emperor, Jade Williams, Minister Jade, Harmonious Jade, Jade Sutherland, Jade Butterfield, Jade Dragon Escort, jade - associate #2.
Music
"Jade" is a song by Japanese heavy metal band X Japan, released on June 28, 2011 in Europe, North and South America, and on July 13 in Japan and Southeast Asia. It is the band's third single since reuniting in 2007 and the second to feature newest member Sugizo on guitar, as well as their first worldwide release.
"Jade" is the ninth album by Corey Hart, released in 1998. It generated three singles.
"Jade" is the third album of Sweetbox and the second with Jade Villalon as a frontwoman. It was released in 2002 in Japan and Europe, 2003 in Taiwan, and 2004 in Korea. Although similar to Classified, the album saw new influences emerging, and showcased a number of tracks, such as "Lighter Shade of Blue", that had not sampled famous classical pieces.
"Jade" is the third album by the German gothic metal band Flowing Tears. It is their first album after changing their name from Flowing Tears & Withered Flowers. The track Wild Horses is mistakenly listed as White Horses on the album.
"Jade" is a musical album of James Horner.

released on (5 years ago)

"Jade" is a musical single of X Japan.

released on (4 years ago)

"Jade" is a musical album of Mukta.

released in (16 years ago)

"Jade" is a musical album of Black Atlass.
"Jade" is a musical album of Jade.

released on (12 years ago)

"Jade" is a musical single of Jade.

released in (24 years ago)

"Jade" is a musical album of Ken Morioka.

released on (10 years ago)

"Jade" is a musical album of Jimsaku.

released on (23 years ago)

"Jade" is a musical album of Ian Boddy.

released in (24 years ago)
People
Jade a.k.a. Jada Fire is an American retired pornographic actress. On February 2, 2012 she announced that she was retiring from pornography.
Jade a.k.a. Kianna Dior is a porn star of half-Korean and half Canadian descent.
Jade a.k.a. Jade Marcela is an Asian American pornographic actress. She is sometimes credited as Marcela Jade, Jade, Kristi, Jade Marcella, or Jade Marcellas. Her sister, Nyomi Marcela, is also an adult actress; their parents are both Indonesian.
Jade a.k.a. Nancy Martinez is a French Canadian dancepop singer and musician who is primarily known for her 1986 hits "For Tonight" and "Move Out".
Jade a.k.a. Jade Hsu: Jade Fox is a pornographic actress.
Jade a.k.a. Annette Roque, wife of Matt Lauer, is a model.
Jade a.k.a. Yeşim Ceren Bozoğlu is an actor and voice actor.
Jade a.k.a. Chona Jason is an actress.
Jade a.k.a. Jade Dixon is an actress, film producer, casting director and a screenwriter.
Jade is a Pornographic Actress.

profession: Pornographic film actor

Jade a.k.a. Giada Calabria is a film production designer and film art director.
There are other people with in their name, like Jade Goe, Jade Gzi, Jade Kan, Jade Law, Jade Lee, Jade Lin, Jade Lui, Ms. Jade and many others.
Groups
Jade were an English folk rock band founded in 1970 by Dave Waite & Marianne Segal who had been performing as a folk duo since the mid-1960s. In the United States the group was known as Marianne Segal and Silver Jade. Jade consisted of Segal, Waite and Rod Edwards.
Jade is a group active during the early to mid-1990s. The group consisted of Tonya Kelly, Joi Marshall, and Di Reed. During their brief yet successful career, Jade released two studio albums, one live album, and a string of popular R&B singles.
JADE is a musical group.
Jade is a musical group.
Jade is a musical group.

album: "If You're Man Enough"
There are other groups with in their name, like Jade's, Jade Redd, Aztec Jade, Black Jade, Cutting Jade, Jade Warrior, Rain on Jade, Jade Analogic, Jurassic Jade, Spinetta Jade and The Jade Shader.
Business
Jade a.k.a. Jade Records: Milan Entertainment was founded in 1978 by Emmanuel Chamboredon, who is still the CEO and President of the company. In the 1980s, Milan branched off to include Editions Milan Music and Editions Jade, the brand name under which all spiritual and classical music would fall. Seeing the need for a presence in America, Milan US was established first in NYC in the late 1980s. It later relocated to LA and is situated now in Sherman Oaks. Editions Milan Music became the Milan Records that of today, at the forefront of music and film with soundtrack releases like Pan's Labyrinth, The Queen, and Flags of Our Fathers, along with new artists releases, especially in the electronic genre, like Emilie Simon and 4hero. Editions Jade became Jade Music, and a third sub-label known as Chicooligan is the brand name on which all Milan vinyl is released.
Places
Jade is a municipality in the district of Wesermarsch, in Lower Saxony, Germany. It is situated on the river Jade, approx. 23 km north of Oldenburg, and 50 km northwest of Bremen.
The Jade is a 22 km long river in Lower Saxony, northwestern Germany. Its source is near Oldenburg, and it flows into the Jade Bight, a bay of the North Sea, near Varel.
There are other places with in their name, like Jade's, Jade Factory, The Jade Canoe, Snowy Jade Cave, Jade Buddha Temple and Jade Drinking Fountain.
Miscellanea
JADE is a proprietary object-oriented software development and deployment platform product from the New Zealand-based Jade Software Corporation, first released in 1996. It consists of the JADE programming language, IDE and debugger, integrated application server and object database management system.
The Jade engine is a game engine developed and used by Ubisoft. The engine was originally developed by a development team on Ubisoft Montpellier, including Michel Ancel, for their critically acclaimed video game Beyond Good & Evil, the main character of which, Jade, shares its name. The engine allows for great flexibility that includes different gameplay sequences and detailed graphics, both in cinematics and gameplay. Since its introduction in 2003, the engine has been developed further for use in later games, listed below.

developer: Ubisoft
genres: 3D game engine, Game engine
license: Proprietary software
official website: www.ubi.com

JADE was the codename given by US codebreakers to a Japanese World War II cipher machine. The Imperial Japanese Navy used the machine for communications from late 1942 until 1944. JADE was similar to another cipher machine, CORAL, with the main difference that JADE was used to encipher messages in katakana using an alphabet of 50 symbols.
JADE was a particle detector at the particle accelerator PETRA at DESY, Hamburg. It was operated from 1979 to 1986. JADE's most important scientific achievement was the discovery of the gluon in three jet events. It also helped greatly in establishing quantum chromodynamics. JADE is an acronym for Japan, Deutschland, and England, the three countries from which the participating universities originated. The JADE jet chamber is now exhibited in the physics lecture hall at the University of Heidelberg. Although the last data taken with JADE are 20 years old, analysis continues with the most recent paper published in 2005.
Phrases with
Jade
Phrases starting with the word Jade:
Phrases ending with the word Jade:
Printed dictionaries and other books with definitions for
Jade
Click on a title to look inside that book (if available):
Gemstone Quick Reference by Nithya Tiwari
Jade is most valued for its metaphysical properties. It was revered in ancient cultures, as well as today, for granting access to the spiritual worlds, enabling insight into rituals and encouraging creativity. It is cherished as a protective talisman ...
by Gordon Campbell
jade ornaments in the form of vases and at least the 7th millennium BC to the present day, no sources ofjade is known in China proper. From early times until the 19th century the only source of nephrite for the Chinese ...
History and Culture by Dorothy Perkins
The Chinese haveused jade tomakea great variety of beautiful objects, including bowls, plates, cups and chopsticks; writing implements such as containers and rests for brushes, table screens andsignature seals; figures of plants, humans and ...
by Joel W. Palka
J JADE. Precious greenstone or jadeite for jewelry and portable art was highly prized throughout Mesoamerica. Jade was used by elites and people of high rank and status in necklaces, bracelets, pendants, pectorals, anklets, and ear flares.
by William Stewart
oo Jade Also ...
by Sir George Watt
Under the name Jade several different minerals are included, which are not always easily ditsinguishable. Scientifically, however, the name is restricted to a definite substance called nephrite. This term, derived from vuppos, the kidney, refers ...
Online dictionaries and encyclopedias with entries for
Jade
Click on a label to prioritize search results according to that topic:
Photos about
Jade
Click on an item to view that photo:
View more pictures about Jade Dragon, Chinese jade, and Jade Williams.
If you need related images for an article or a report, you can download stock photos:
More...
Videos about
Jade
Click on an item to play that video:
View more videos about Vesuvian Jade and vesuvianite jade.
See also the pronunciation examples of Jade!
Quotes about
Jade
From fresh jade to jade
cycle spins cycle onwards
till perceptions fade. (Jonathan Robin)
more quotes about jade...
Scrabble value of J8A1D2E1
The value of this 4-letter word is 12 points. It is included in the first and second editions of the Official Scrabble Players Dictionary.
Couldn't select: Got error 28 from storage engine