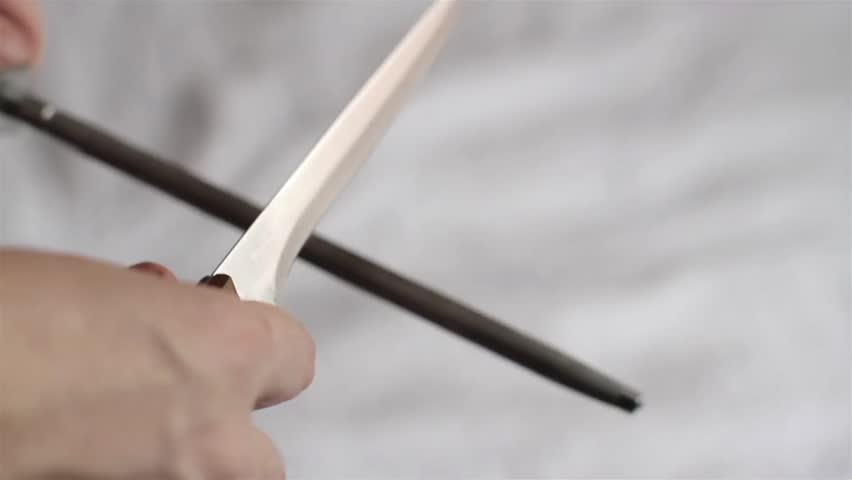 Sharpen
Definition of the verb
sharpen
What does sharpen mean as a doing word?
verb - inflections: sharpened | sharpening | sharpens
make sharp or sharper

example

: sharpen the knives

syntax

:

Syntactic formula
Example for the syntactic formula
[

Agent

- intentional control] [Verb] [

Patient

]
Bill dried the clothes
[

Agent

- intentional control] [Verb] [

Patient

] [Adjective]
The clothes dried wrinkled
[

Agent

- intentional control] [Verb] [

Patient

] [Adjective] with [

Instrument

]
Tony broke the piggy bank open with a hammer
[

Agent

- intentional control] [Verb] [

Patient

] to / into [Oblique, state]
Tony broke the glass to pieces
[

Agent

- intentional control] [Verb] [

Patient

] to / into [Oblique, state] with [

Instrument

]
Tony broke the glass to pieces with a hammer
[

Agent

- intentional control] [Verb] [

Patient

] with [

Instrument

]
Bill dried the clothes with a hairdryer
[

Instrument

] [Verb] [

Patient

]
The hairdryer dried the clothes
[

Patient

] [Verb]
The clothes dried | The roses bloomed
[

Patient

] [Verb] [Adjective]
Piggy banks break open
[

Patient

] [Verb] [Adjective] with [

Instrument

]
Piggy banks break open with a hammer
[

Patient

] [Verb] [Adverb]
Copper rods bend easily | Cotton clothes dry easily | Crystal vases break easily | Idaho potatoes bake beautifully
[

Patient

] [Verb] to / into [Oblique, state]
Glasses break to pieces
[

Patient

] [Verb] to / into [Oblique, state] with [

Instrument

]
Glasses break to pieces with a rock

Verbs of Change of State (with the same syntax): abase, abate, abbreviate, abrade, abridge, accelerate, acetify, acidify, activate, advance, age, agglomerate, air, alkalify, alter, ameliorate, americanize, amplify, anesthetize, anglicize, animate, apostatize, atomize, attenuate, augment, awake, awaken, balance, beautify, bedew, bifurcate, bisect, blacken, blast, bleach, bloody, blunt, blur, bolshevize, botch, brighten, broaden, burn, burst, calcify, capacitate, capsize, caramelize, carbonize, castrate, categorize, catholicize, cauterize, change, char, cheapen, chill, chlorinate, christianize, circumcise, civilize, clean, clear, clog, close, clouded, coagulate, coarsen, collapse, collect, commercialize, compress, condense, constrict, constringe, construct, contract, cool, correct, corrode, corrugate, corrupt, cremate, crimson, crisp, crumble, crystallize, curdle, dampen, darken, de-escalate, deafen, decelerate, decentralize, decrease, deepen, deflate, defrost, degenerate, degrade, dehumidify, dehydrate, demagnetize, demobilize, democratize, depressurize, desalinate, desiccate, destabilize, deteriorate, detonate, devalue, diffract, diffuse, dilate, dilute, dim, diminish, dirty, disintegrate, dislocate, disorganize, disperse, dissipate, dissolve, diversify, divide, domesticate, double, drain, dry, dull, ease, effeminate, emaciate, emasculate, embitter, embrocate, empty, emulsify, energize, enhance, enlarge, equalize, equilibrate, eternalize, europeanize, evaporate, even, expand, explode, fade, famish, fatten, federate, feminize, fertilize, fill, firm, flatten, flood, fossilize, fray, freeze, freshen, frost, fructify, fuse, gasify, gelatinize, gladden, granulate, gray, grow, halt, harden, harmonize, hasten, heal, heat, heighten, humidify, hush, hybridize, hydrogenate, ignite, improve, incinerate, increase, incubate, inflate, intensify, invert, iodize, ionize, kindle, laminate, lengthen, lessen, level, levitate, light, lighten, lignify, liquefy, loop, loose, loosen, macerate, magnetize, magnify, mature, mechanize, mellow, melt, mineralize, mobilize, moderate, modernize, modulate, moisten, motorize, muddy, multiply, mute, narrow, nasalize, nationalize, naturalize, neutralize, nitrify, normalize, objectify, obscure, open, operate, ossify, overturn, oxidize, pale, paralyze, pasteurize, perfect, petrify, polarize, polymerize, pop, popularize, proliferate, propagate, publicize, pulverize, purify, purple, putrefy, quadruple, quicken, quiet, quieten, rarefy, reanimate, redden, regularize, rekindle, reopen, reproduce, resuscitate, reverse, revive, ripen, roughen, rupture, saponify, scorch, sear, secularize, short, short-circuit, shorten, shrink, shrivel, shush, shut, sicken, silence, silver, singe, sink, slack, slacken, slim, slow, smooth, soak, sober, soften, solidify, sour, sovietize, sprout, stabilize, standardize, steady, steep, steepen, sterilize, stiffen, stratify, strengthen, submerge, subside, sunburn, sweeten, tame, tan, taper, tauten, tense, thaw, thicken, thin, tighten, tilt, tire, topple, toughen, tousle, tranquilize, treble, triple, ulcerate, unionize, urbanize, vaporize, vary, ventilate, vibrate, vitrify, volatilize, vulcanize, wake, waken, warm, weaken, westernize, wet, whiten, widen, worsen, yellow.

lexical domain

: Contact - verbs of touching, hitting, tying, digging

antonym

: dull

more specific words

:

make crisp or more crisp and precise
become sharp or sharper
put (an image) into focus
make (images or sounds) sharp or sharper
raise the pitch of (musical notes)
give a point to
make (one's senses) more acute

example

: This drug will sharpen your vision

lexical domain

: Change - verbs of size, temperature change, intensifying, etc.

synonym of sharpen

: heighten

more generic words

: compound / deepen / heighten / intensify

= make more intense, stronger, or more marked
Alternative definition of the verb
sharpen
verb
[transitive] To make sharp
Explanation
Sharpen is an Eclipse plug-in useful for multiplatform code development, having the ability to convert from one language to another. Sharpen can convert Java to C# and vice versa. It can be used also to develop Java code with the most recent JDK, as Sharpen can convert between the Java dialects.
Printed dictionaries and other books with definitions for
Sharpen
Click on a title to look inside that book (if available):
New Media and the Forensic Imagination by Matthew G. Kirschenbaum
Sharpen is an instance of what is technically known as an area process transformation. It works by multiplying the color value of a pixel by the quantity of its neighboring pixels and then lightening or darkening the pixel based on whether the ...
by Steven Dale Fish
Sharpen is the most useful of the filtering functions. CLII.
The A to Z Desktop Reference of Photoshop by Philip Andrews
Original Unsharpened After Sharpen ...
by Dwight R. Schuh
To sharpen a head on a stone. Ihe procedure is much like sharpening a knife. First put oil on Ihe stone. Ili-niii with the back edge of the blade on Ihe stone, and draw the blade toward you as if to slice oil off the stone. As you slice, work from Ihe ...
by William Marsden
Sharpen exo-V tājam-kan, ---- mendjam; (whet) 4.1%.c meng-ăsah, oft-châni. Sharp-sighted *** <-- mäta täjam. SHARPen (cheat) #33 pengichū, Shatten co, romok, 43 pachah. SHAVE A}- ckiikur, Ar- meniükur; (shaver, barber) so pen- chikur.
Online dictionaries and encyclopedias with entries for
Sharpen
Click on a label to prioritize search results according to that topic:
Usage statistics about
sharpen
The following statistics are based on the British National Corpus, so they are representative for the British English from the later part of the 20th century, both spoken and written.
Distribution of usage frequency for the most common synonyms of the verb sharpen:
Comparison of usage frequency between the verb sharpen and its most common antonyms:
Photos about
Sharpen
Click on an item to view that photo:
Sharpen
Photo credit: t.j.gordon
If you need related images for an article or a report, you can download stock photos:
More...
Video language resources about
Sharpen
Click on an item to play that video:
See also the pronunciation examples of Sharpen!
Quotes about
Sharpen
Heat and animosity, contest and conflict, may sharpen the wits, although they rarely do; they never strengthen the understanding, clear the perspicacity, guide the judgment, or improve the heart. (Walter Savage Landor)
more quotes about sharpen...
Scrabble value of S1H4A1R1P3E1N1
The value of this 7-letter word is 12 points. It is included in the first and second editions of the Official Scrabble Players Dictionary.
Anagrams of
S
H
A
R
P
E
N
What do you get if you rearrange the letters?
See also the blanagrams of Sharpen!
Share this page
Next...
Go to the usage examples of Sharpen to see it in context!